Did you know that Egmont Aviation has extended its endeavors into the realm of aircraft manufacturing? It has become our flagship direction. And now our business encompasses the entire sales cycle, starting from pilot training and culminating in the sale of aircraft, ranging from training models to advanced jets.
Our journey began with Flamingo, an ultralight piston aircraft that marked our entry into the manufacturing arena. Its distinctive wing design and exceptional flight characteristics allowed us to present our first remarkable product to the market.
Our Flamingo was created as a trainer aircraft with a tandem configuration. During the initial tests, it became evident that the aircraft's wing, featuring six different profiles along its span, was exceptionally well-designed and unmatched in its category. The test results were remarkable, with the aircraft equipped with a non-retractable lending gear and Rotax 912 engine of 100 horsepower reaching a cruising speed of 140 Kts (260 km/h) at 75% power at an altitude of 3000 feet. With the retractable lending gear and the same 100 horsepower engine, it accelerates to 165 Kts (305km/h).
The aircraft is designed for primary training of civilian and military pilots, as well as for performing basic figures of simple, complex, and advanced aerobatics, including the "hammerhead" maneuver, with load factors of +6/-4 and a safety factor of 1.6. The use of composite materials not only enhances safety and extends the aircraft's service life but also allows reducing the cost per flight hour, which translates to potential reductions in the training expenses for qualified professional and military pilots.
Flamingo aircraft is constructed entirely from carbon composite materials. It features integrated fuel tanks from the Italian company Merin, which eliminate the risk of fire during emergency situations. The aircraft is equipped with the high-speed Galaxi parachute rescue system, ensuring crew safety and the aircraft's controlled descent.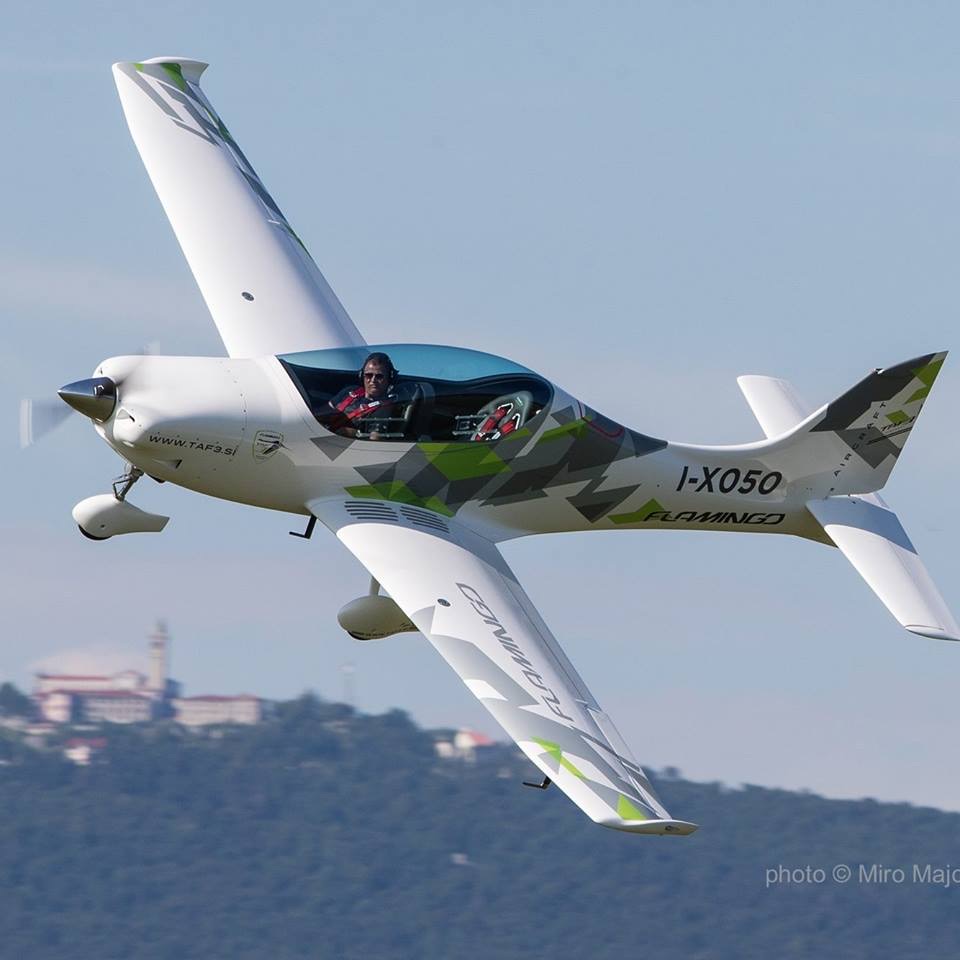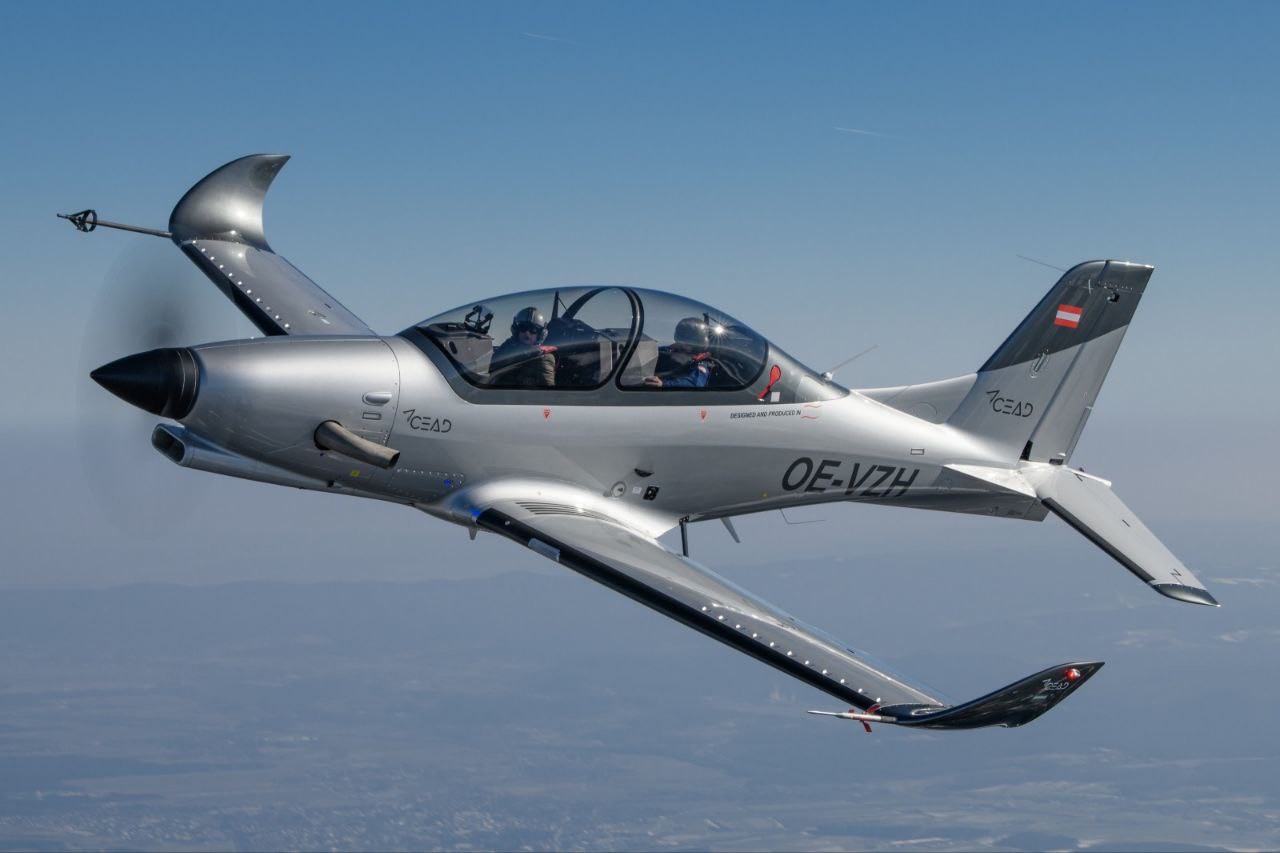 Next important step was a decision together with partners to create a unique Airus Training Turboprop. During the aircraft's design phase, we placed a paramount emphasis on the potential for swift production localization within a customer's country. Our employment of an exclusive patented assembly technology not only resulted in significant time and labor savings, but it also negated the necessity to recruit highly skilled aviation professionals. As a result, organizing production and training personnel in the customer's country is now achievable within a six-month timeframe.
The P01's uniqueness, coupled with its cost-effectiveness and low prime cost per flight hour, positions it with immense internal and external potential. The adaptable cockpit design further allows cadets of military institutions to develop flight skills, mimicking the cockpit layout of the actual combat aircraft in service within the customer's nation. This innovation leads to a tenfold reduction in training costs and a substantial increase in efficiency. Moreover, the option to integrate engines, navigation systems, and ejection seats from diverse manufacturers broadens the market for prospective aircraft buyers.
Currently, our primary focus lies in the creation of a groundbreaking 4-seat Airus Single Engine Jet. After conducting extensive market research and engaging in dialogues with global players, we've crystallized a concept that promises to redefine private aviation. This jet not only offers remarkable performance but also boasts significant cost savings compared to many competitors in the field. Through our unwavering dedication to excellence, we continue to pave the way for transformative advancements in the aviation industry.
Airus Single Engine Jet represents a pinnacle of uniqueness and high-performance aviation, meticulously crafted with state-of-the-art technology and cutting-edge materials. Boasting an aerodynamically efficient design, augmented by advanced avionics, and exuding a lavish interior and exterior, this aircraft stands as an epitome of desire for private individuals, discerning private pilots, small to mid-sized companies, and even enterprises involved in commercial and specialized cargo operations.
This jet is ingeniously engineered for optimal fuel efficiency, and its adaptability to incorporate sustainable aviation fuels, like biodiesel, positions it as an environmentally-conscious choice.
Notably, the jet's remarkable efficiency, attributed to factors such as its optimized weight and progressive wing design, also renders it exceptionally suitable for eventual conversion to electric engines. With comprehensive calculations already in place, this future-forward aspect adds a layer of anticipation to an already remarkable aircraft, signifying the possibilities that lie ahead in the realm of aviation technology.